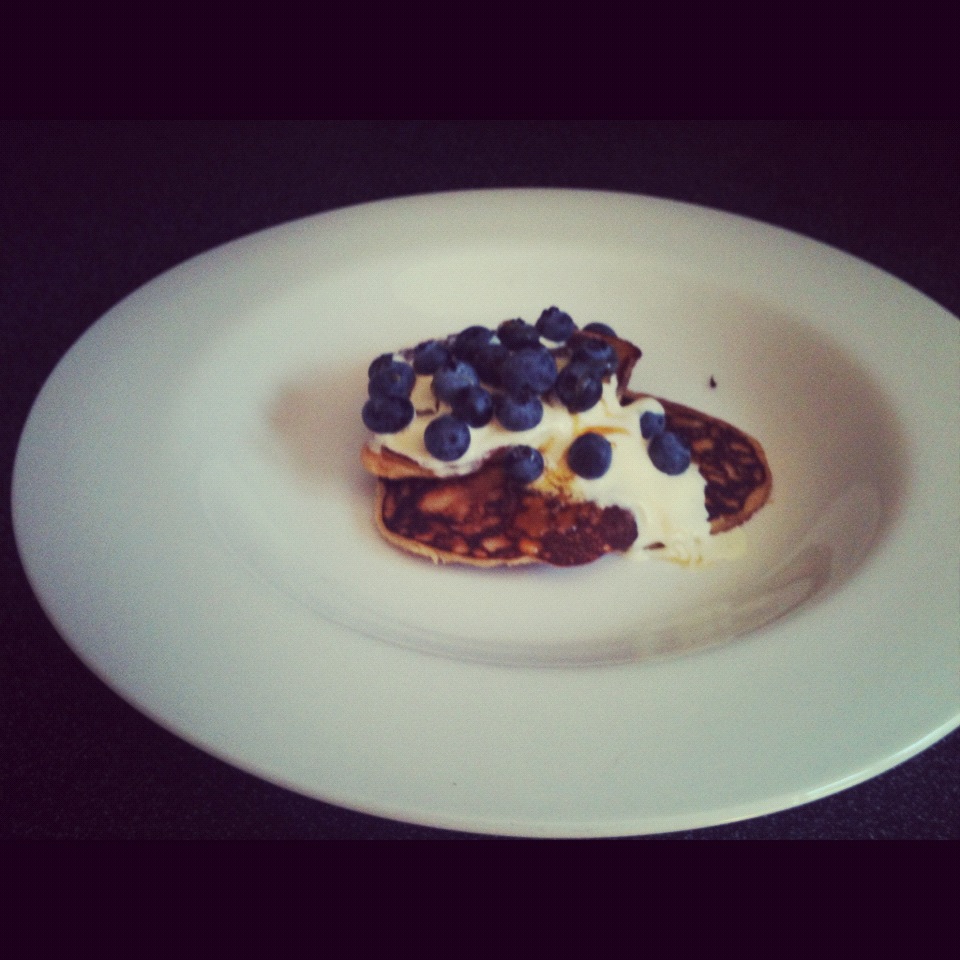 When your favourite things in the world are deemed by some people to be a little bit crazy or extreme, it's really nice to find like minded individuals who share your passions and interests.  Recently I have been fortunate enough to stumble upon one such person and we are always planning the next cooking extravaganza to see what we can create.
Last weekend we decided to make "Primal Pancakes" which was really more his idea than mine…I love pancakes but to be honest, I haven't eaten them since I was a teenager so the thought of attempting to make such a nostalgic and delicious grain based recipe out of other ingredients seemed a little ambitious.
I was proven wrong on both counts! Not only was this recipe extremely easy to execute but the pancakes tasted amazing..I can't wait to make them again.  We served them with organic cream, honey and blueberries but you could serve them with anything.  The best thing about these delicious pancakes is that they are totally gluten and sugar free (and they can be dairy free too if you want). Not only do they taste delicious but they are a good source of healthy fats and protein.
Coconut Flour Pancakes
Ingredients
4 eggs, room temperature
1 cup milk (raw cow's or coconut)
2 teaspoons vanilla extract
1 tablespoon honey
½ cup coconut flour
1 teaspoon baking soda
½ teaspoon sea salt
Coconut oil or butter for frying
Directions
Preheat fry pan over medium heat.  In a small bowl beat eggs until frothy, about 2 mins.  Mix in milk, vanilla and honey.
In a medium sized bowl combine coconut flour, baking soda and sea salt, whisk together.  Stir wet mixture into dry until coconut flour is incorporated. You may need to play around with liquid consistency with this recipe, coconut flour is super absorbent so add some water or more coconut milk/raw milk to achieve that pancake batter consistency.
Grease pan with butter or coconut oil.  Ladle a few tablespoons of batter into pan for each pancake. Spread out slightly with the back of a spoon.  The pancakes should be 2 – 3 inches in diameter and fairly thick.  Cook for a few minutes on each side, until the top dries out slightly and the bottoms start to brown.  Flip and cook an additional 2 – 3 minutes.
Serve hot with butter, coconut oil, honey, syrup, fruit, cream, ice cream or anything else you fancy.