This is a recipe that my partner Jeremy came up with last summer and it's now a summer time staple for us.  It's great to have for dinner on a really hot night or if you don't feel like eating too much protein.  What's great about it is that it is filled with so many amazing super foods.
Fresh raw greens for high amounts of phytonutrients and vitamin C.
Activated nuts for cholesterol lowering protein.
Blueberries and goji berries deliver high levels of antioxidants.
Seaweed is high in iodine and great for thyroid function.
Chia seeds are one of the highest sources of omega 3 which reduce inflammation.
Avocado contains 25 essential nutrients and delivers a good dose of healthy fats.
Sea salt has so many health benefits including regulating water content throughout the body.
Apple cider vinegar is a natural digestive aid and also a naturally fermented food to assist with healthy gut function.
Olive oil when used raw (cold pressed & organic of course) has heart health benefits.
The best thing about this salad is that it is totally DELICIOUS and you feel AMAZING after you have eaten it.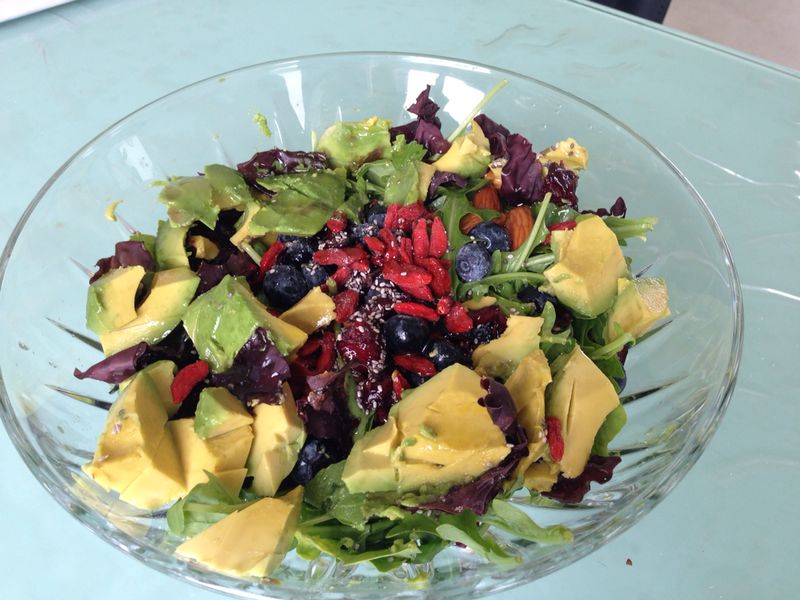 Ingredients
These are all listed above and we never measure anything so you are welcome to tinker with quantities.  This amount serves 2.
Rocket & baby spinach leaves – at least 4 handfuls
1 avocado
1 handful of goji berries
1 handful of blueberries
1 handful of Dulse (delicious seaweed, can be purchased from good health food stores)
1 handful of almonds or walnuts or a combination
Sprinkle of chia seeds
Sprinkle of himalyan sea salt
Tablespoons of Apple Cider Vinegar & cold pressed olive oil emulsified by shaking together in a jar.
Directions
Add all ingredients in to a bowl, saving the chia seeds to last, pour dressing over the top, season and enjoy.